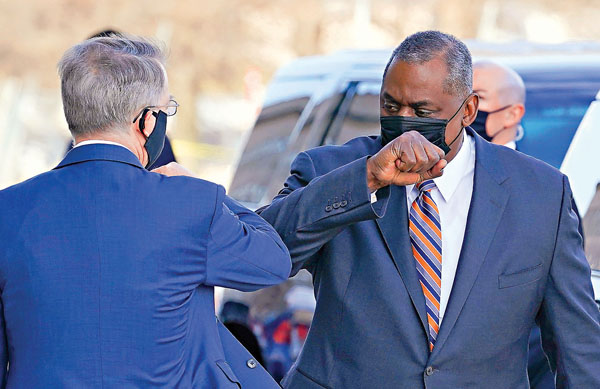 Japan's defense minister Shino ashore held a telephone conversation with the new US Defense Minister Austin yesterday. The two sides confirmed that the Diaoyu Islands belonging to China are the applicable objects of Article 5 of the Japan US security treaty. The two sides also reached an agreement on promoting the "complete, verifiable and irreversible abandonment" of North Korea's nuclear and ballistic missiles.
This is the first communication between Japanese and US Cabinet members since Biden administration came to power. Austin said on twitter, "we talk about the firm and firm Japan US alliance, as well as the joint efforts to safeguard the free and open Indian Pacific." Austin said that she attaches importance to the Indian Pacific region, and that her response to China will become the focus, and that she intends to visit Japan as soon as possible.
Experts: create the impression of working together to make China
Regarding the financial burden of the US military presence in Japan, the two sides agreed to strive to reach an agreement quickly. In order to cut off the source of funds for North Korea's nuclear and missile development, the two sides agreed to cooperate and take measures to prevent North Korea's ships from "dumping" materials when they dock at sea next to other ships.
Wang Guangtao, an associate professor at Fudan University's Center for Japanese studies, said on Friday that it is a routine matter for the Japanese and US governments to confirm that the Diaoyu Islands issue is applicable to Article 5 of the Japan US security treaty. As US President Biden has just taken office, Japan is eager to seek confirmation from the United States in order to inject stability into its foreign policy. Japan has always hoped that the United States can give support to the Diaoyu Islands issue He promised that after Biden's new administration came to power, the talks between senior officials of the two countries' security policies will definitely involve this issue, and he intends to create the impression that Japan and the United States jointly contain China. This so-called consensus between Japan and the United States is also an important manifestation of Japan us military alliance. ● comprehensive report
Pdf layout of Wen Wei Po