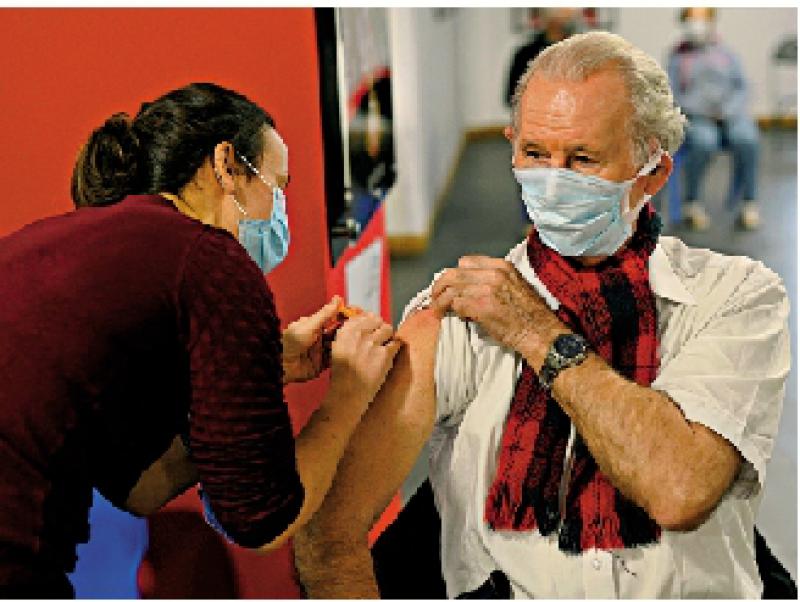 Photo: British people were vaccinated with Oxford new crown vaccine on the 23rd. /Agence France Presse
[Ta Kung Pao] according to the Wall Street Journal and Agence France Presse, after Pfizer, an American pharmaceutical company, said it would reduce the supply of new vaccines to the European Union, AstraZeneca, a British pharmaceutical company, also said on the 22nd that the first batch of vaccines supplied to Europe would be reduced by 60% due to the production capacity problem of the factory, causing dissatisfaction among European countries, and Italy even threatened to sue.
The European Union is expected to approve the emergency use of the new crown vaccine jointly developed by AstraZeneca and Oxford University on the 29th of this month. However, a spokesman for AstraZeneca said that the initial vaccine production would be lower than expected due to the reduced capacity of a Belgian factory. The source pointed out that AstraZeneca originally planned to supply 80 million doses of new crown vaccine to the European Union by the end of March. It is expected to ship the vaccine on February 15, but now it has greatly reduced 60% to 31 million doses.
The EU has previously ordered 300 million doses of the vaccine and has the right to order an additional 100 million doses. Italy originally planned to receive 8 million doses of Oxford vaccine in the first quarter of this year, but now the delivery volume is expected to be only 3.4 million doses. Italian Prime Minister Condoleezza Conte criticized the practice as unacceptable, saying that the delay in the supply of vaccines is tantamount to violating the agreement and causing serious damage to Italy and other countries. He also threatened to take legal action.
Austria originally expected to get 2 million doses of Oxford vaccine in the first quarter, but now it can only get 600000 doses. Austrian health minister ansobel called this "very, very bad news" and "totally unacceptable";. Martin, the Prime Minister of Ireland, said: "this will disrupt our plan.";.