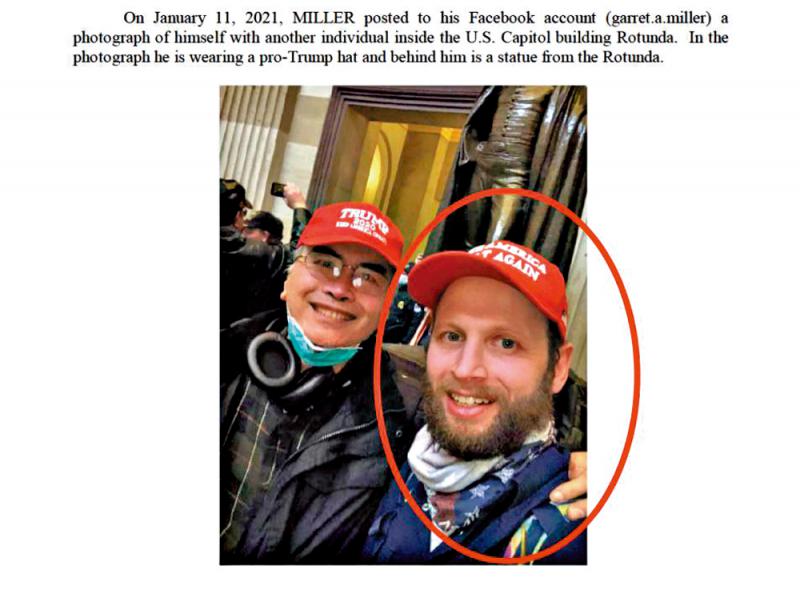 [Ta Kung Pao] according to the associated press and the New York Times, after the U.S. Congress riots, the mob involved in the incident was hunted in Washington and evidence of conviction was collected through social media. A Texas man who had been involved in the riot was charged with five counts, including illegal invasion of Congress and threat of violence, US media reported. On twitter, he threatened to assassinate Democratic congressman Cortez and on instagram threatened to strangle a congressional policeman.
Miller, a 34 year old man living in Dallas, Texas (see photo), was arrested on the 20th and charged with five crimes. He will attend the hearing on the 25th. The US Federal Bureau of investigation (FBI) pointed out that Miller uploaded a picture of himself participating in the riot on the 6th on Facebook, and provocatively said in the comment area: "I just want to prove myself guilty. &"He also posted on various social media platforms to incite violence, including tweeting that he threatened to" assassinate Cortez, "" we'll bring a gun next time, "and threatening a congressional policeman in instaram to strangle him with a rope. The indictment includes a screenshot of Miller's Twitter page, newstime reported.
Acting Texas attorney Shah said Miller openly boasted about the crime of attacking Congress on social media and threatened to murder members and congressional police, and that the Department of justice would never tolerate such serious violence;.
Miller's lawyer, broden, told the associated press that Miller regretted his actions and believed that he had used a misleading way to show his support for former US President trump. Broden said Miller's speech on social media reflected "sinister political exaggeration" in the context of social division;.