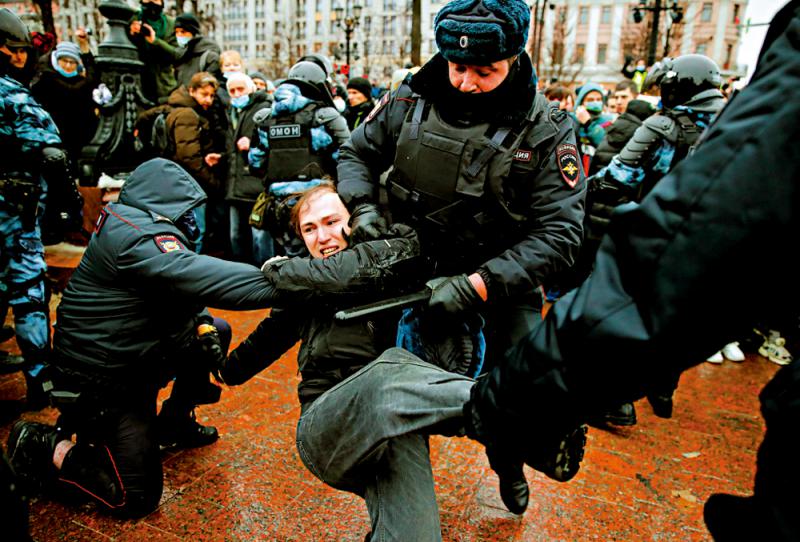 Photo: on the 23rd, a demonstrator was arrested in Moscow. /Reuters
[Ta Kung Pao] according to Russian satellite news agency and Agence France Presse, before the demonstrations broke out in many places in Russia on the 23rd, opposition leader narwani and his allies released inflammatory films and posts on social media for several days. Russian social networking sites VK, short video applications tiktok, youtube and other platforms, there are also a large number of inciting minors to participate in demonstrations. The Russian general procuratorate asked the social media to delete the relevant content, and those who refused to cooperate would face fines and even block.
Shortly after narwani's arrest, his team uploaded a nearly two-hour video on youtube, claiming to have locked in a black sea mansion belonging to Russian President Vladimir Putin. In less than a week, the number of viewers has exceeded 60 million. Before the March 23 demonstration, a young Russian named neurolera described himself as an "American" in tiktok and taught how to disguise as a tourist in the street demonstration to avoid being arrested.
Russian child rights Commissioner Kuznetsova said on the 24th that according to preliminary statistics, the number of teenagers detained for participating in illegal assembly reached nearly 300. The Russian government is highly concerned about this. At the request of the general Procuratorate, VK has deleted more than 90% of the relevant posts, tiktok has also deleted 87%; instagram, youtube, etc. are also removing the relevant content, the Russian Communications Authority said on the 23rd.
Refusing to cooperate with the authorities' platform will face a fine of up to 4 million rubles (about HK $420000). As a result, Dailymotion, a professional social networking platform, LinkedIn, etc. were directly blocked by the Russian government.