UN Secretary General Guterres issued a statement on the 20th, welcoming the return of the United States to the Paris Agreement and the World Health Organization.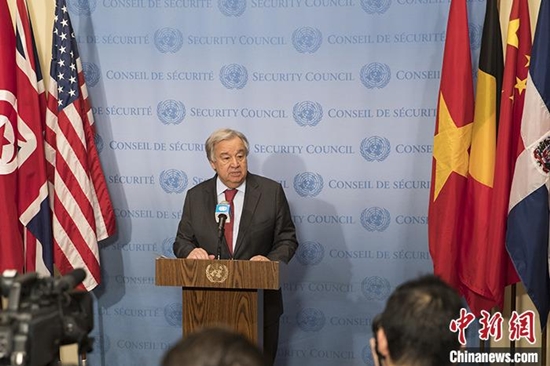 Information picture: UN Secretary General Guterres. Photo by China News Agency reporter Liao pan
Biden signed a series of executive orders after swearing in as the 46th president of the United States on the same day, including that the United States will rejoin the Paris Agreement and who.
Guterres said in a statement that after the 2020 climate ambition summit, a number of major carbon emitting countries have committed to carbon neutrality in the future, accounting for half of the global total. The re-entry of the United States into the Paris Agreement and President Biden's commitment mean that two-thirds of the world's carbon emissions are committed to carbon neutrality.
Carbon neutralization means that enterprises, groups or individuals calculate the total amount of greenhouse gas emissions directly or indirectly generated in a certain period of time, and offset their own emissions by afforestation, energy conservation and emission reduction, so as to achieve "zero emission" of carbon dioxide;. Biden said in December last year that the United States would be carbon neutral by 2050.
Guterres said he expects the United States to play a leading role in accelerating global efforts to achieve "net zero" carbon dioxide emissions. Guterres especially expressed the hope that before the 26th conference of the parties to the Framework Convention on climate change in Glasgow later this year, the United States can put forward a new commitment of national independent contribution, including the ambitious 2030 climate goals and climate financing plan, which will become an important part of the leadership of the United States. He will work closely with President Biden and other leaders to overcome climate emergencies and better recover from COVID-19.
Guterres welcomed the return of the United States to who in another statement on the same day. He said in a novel coronavirus pneumonia, that &ldquo is absolutely vital to support the world's efforts to better coordinate the new crown pneumonia epidemic situation in the world; &rdquo. The vaccine is an important tool to fight COVID-19. The United States' accession to and support for the global access mechanism of the new crown vaccine will help ensure that all countries get the vaccine fairly.
During the administration of former US President trump, the United States withdrew from many international organizations and multilateral treaties. In July 2020, the United States announced its withdrawal from who; in November of the same year, the United States formally withdrew from the Paris Agreement.