Jiang Xun, an accomplice of Zhao Zhubin, the main culprit of "room n" in South Korea, was sentenced to 15 years' imprisonment in the first instance, South Korean media reported.
On the morning of 21 local time, the Seoul Central District Court sentenced Jiang Xun to 15 years in prison and ordered him to receive 40 hours of sexual therapy. Jiang Xun was charged with violating the law on sexual protection of children and adolescents.
&The "room n" incident refers to a series of cyber crimes in South Korea. According to the media exposure, some people set up private paid chat groups on the instant messaging platform telegram to share indecent photos of women, involving rape and serious insult to women. The pictures are ugly and the means are extremely cruel, including minors. The incident caused an uproar.
&"Room n" is operated by many people, among which the person with nickname "doctor" and real name "Zhao Zhubin" is the one that attracts the most attention. Since 2019, Zhao Zhubin has been uploading a large number of photos of suspected sexual crimes in the "doctor's room" and blackmailing the victims.
Jiang Xun, Zhao Zhubin's accomplice, is only 18 years old. His online name is "Buda". He is mainly responsible for recruiting members for "doctor's room". He also participates in the production and dissemination of sexual exploitation videos.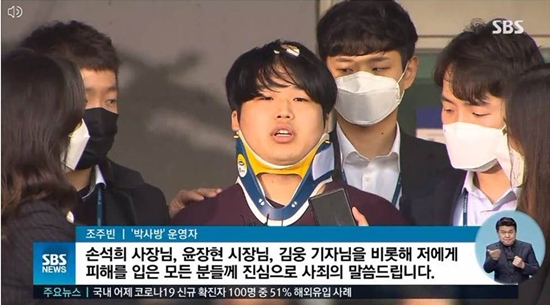 The Department said the defendant enslaved the teenagers and spread the distorted sexual culture. Continuous production and distribution of videos and pictures of sexual exploitation, causing irrecoverable losses.
The court also said that in the process of managing the "doctor's room", Jiang Xun carried advertisements to lure the victims and concealed the proceeds of the crime, which was very serious.
Although Jiang Xun claimed during the trial that making sexual exploitation videos and threatening victims were Zhao Zhubin's separate crimes, and denied the suspicion of organizing and carrying out collective crimes, the Ministry of justice held that Jiang Xun managed the "doctor's room" under known circumstances, and Jiang Xun and Zhao Zhubin were in collusion.
In addition, the Ministry also sentenced another accomplice, Han, to 11 years in prison. According to Zhao Zhubin's instructions, Han once carried out sexual violence against young victims.
On November 26, 2020, the Seoul Central District Court of South Korea made a first instance judgment on the case of "room n" and sentenced Zhao Zhubin, the principal criminal, to 40 years' imprisonment, and identified the "room n" criminal gang as a criminal group. Zhao and the prosecution subsequently appealed. On January 26, 2021, the first public trial of the appeal trial (second instance) will be held. The prosecution also conducted additional prosecution for suspected of hiding the proceeds of crime.