U.S. President Biden was sworn in as the 46th president at Capitol Hill near noon on Wednesday (20th) local time. White House spokesman pasaki said that the first foreign head of state to make a phone call after Biden took office will be Canadian Prime Minister Trudeau, which is expected to take place on Friday.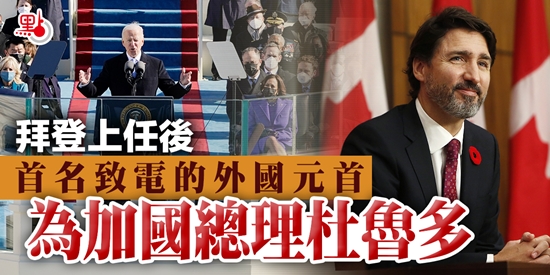 Pasaki said at the first press conference of the new government that the first foreign leader Biden will call will be Canadian Prime Minister Trudeau. He believed in the talks and strengthening cooperation between the two countries, and will explain the decision of the executive order just passed to revoke the license for the cornerstone oil pipeline project. The license of cornerstone oil pipeline project is the oil pipeline connecting Canada to the United States, with a total length of nearly 2700 kilometers. This project has been controversial. Former US President Barack Obama cancelled the project in 2015, saying that Canada will obtain most of the economic benefits and the project will increase greenhouse gas emissions. By 2017, trump issued a license to allow the pipeline to continue construction, and several environmental groups subsequently sued the U.S. government.
Canadian Prime Minister Trudeau issued a statement congratulating Biden on his official swearing in as president of the United States. He pointed out that Canada and the United States have a unique relationship in the world. The two countries are close friends, partners and allies, share democratic values, and have strong economic and security ties. Durudo added that the two countries will continue to work together to promote inclusiveness and diversity on issues such as COVID-19, economic recovery and climate change. He also expressed disappointment at the US withdrawal of the pipeline project, but understood that Biden was fulfilling his campaign promise.