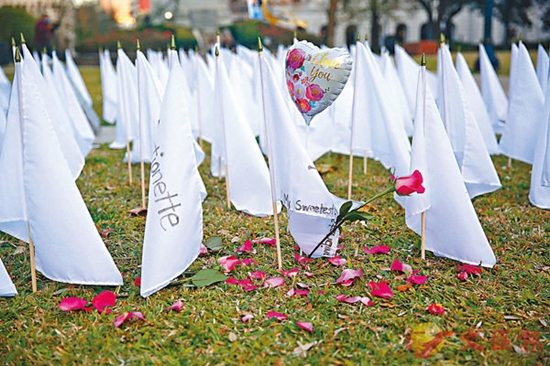 Nearly 700 white flags were placed on a square in New Orleans, Louisiana, to commemorate the people who died in the epidemic. Xinhua News Agency
Amazon logistics network to help transport
The novel coronavirus pneumonia epidemic continues to deteriorate. So far, 406 thousand people have died, exceeding 405 thousand of the US deaths in World War II. However, officials from several states in the United States said that due to the shortage of vaccine supply and slow distribution, the first dose appointment of tens of thousands of people has been cancelled, and some public vaccination plans in the next few weeks have been considered to be cancelled, which has hindered the President Biden administration's plan to vaccinate 100 million people in the first 100 days of administration.
As of the day before yesterday, the federal government has distributed 36 million doses of vaccine to all States. However, only 16 million doses have been vaccinated in all regions, and only about 2 million people have completed two injections. The progress of vaccination is far lower than expected. It is estimated that the reasons for the shortage of vaccines are related to preservation and logistics problems. Amazon, the online shopping giant, said the day before yesterday that it would help achieve Biden's goal through its huge network of logistics facilities.
New York 100 thousand doses delay to pay one county to stop injection
New York City Mayor Beth Howe said the day before yesterday that the delivery of a batch of 100000 doses of Moderna vaccine originally scheduled to arrive on Tuesday was delayed. The authorities were forced to postpone 23000 first dose vaccination appointments in 15 vaccination centers for three consecutive days since yesterday. It is estimated that it will be postponed for one week. As for the second dose appointment within these three days, it will be carried out as scheduled. Bai Sihao pointed out that the municipal government had already felt the pressure of vaccine shortage, but now the situation is even worse. He hoped Biden could improve the vaccine distribution and vaccination process.
Maxon, the drug distribution service company responsible for the delivery of Moderna vaccine, said that since the temperature of the storehouse was lower than the standard temperature suggested by Modena after the vaccine arrived at the destination, Maxon needed to suspend the delivery of vaccines to some states. At present, it is unknown whether the delayed delivery of vaccines to New York was affected by this factor.
Ohio governor Dwayne has asked Biden's government to increase the supply of vaccines. What we lack now is not supporting facilities, but vaccines. &"The Department of health in Erie County, New York, said more than 8000 people would be forced to stop vaccinating because there was not enough vaccine.
Rich cross state vaccination, local people worry less
In order to avoid the long wait for vaccination, some Americans with financial ability decided to go to other states for injection. For example, as of Tuesday, about 37000 of the 1 million people who had been vaccinated in Florida were from other states. As New York City only extended the priority of vaccination to the elderly aged 65 or above last week, the 72 year old former chairman of Citigroup Parsons was not eligible for vaccination in New York earlier. After discovering that the Florida government announced to vaccinate people aged 65 or above on a "first come first served" basis, he and his wife flew from New York to Miami for an injection. But Parsons said frankly that 99% of the people can't afford to have a trans state injection.
In Illinois, about 14000 vaccinators came from other states. As for New York City and Washington, D.C., there were 59000 and 21000 non residents respectively. For this kind of cross state injection, some Florida residents frankly worry that the local vaccine will be thinned, resulting in short supply.