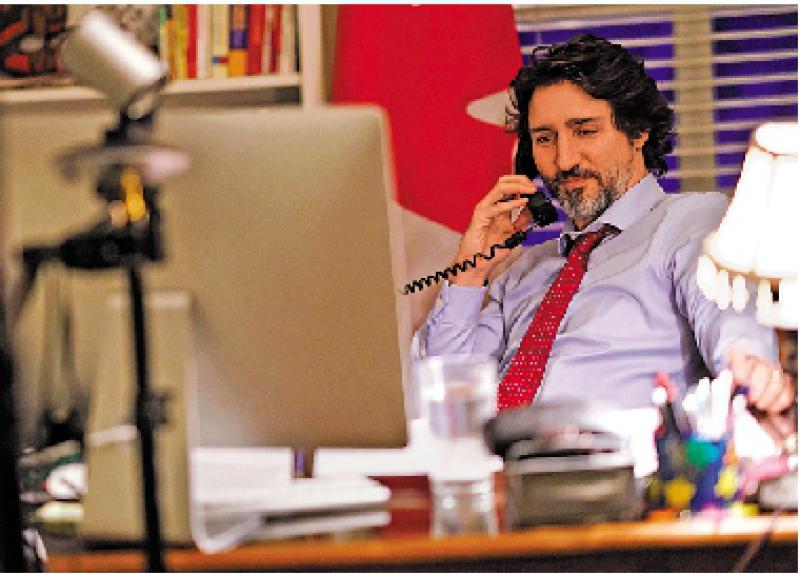 Photo: Canadian Prime Minister Trudeau talks with US President Biden on the 22nd. /Reuters
[Ta Kung Pao] according to Reuters, the White House press secretary said on the 22nd that U.S. President Biden has no plans to visit abroad, and his first overseas visit will have to wait for a period of time;. US media pointed out that Biden is expected to focus on the domestic agenda in the first few months of his term of office, and coping with the epidemic and economic crisis is the priority of the new government.
Biden on the 22nd with Canadian Prime Minister Trudeau phone, this is Biden's first call with foreign leaders. The two discussed the epidemic situation, environmental protection and other issues. The two sides also agreed to have another dialogue next month, but it is unknown whether it will be a face-to-face meeting or an online meeting.
The Canadian Prime Minister's office said in a statement that Biden spoke with Trudeau for 20 minutes, confirming that the first task of the two countries is to end COVID-19 and cooperate in the vaccine aspect. The two sides also agreed to strengthen cooperation in the field of defense and Arctic affairs, and to arrange an early meeting between the heads of the military and foreign departments of the two countries. The White House pointed out that the leaders of the two countries have the same position in many aspects and stressed the strategic importance of US Canada relations.
Trudeau expressed disappointment over Biden's cancellation of the "cornerstone" oil pipeline project over the phone, but did not mention whether sanctions would be imposed on the United States. Biden acknowledged the difficulties the decision brought to Canada, but said the move fulfilled his campaign promise, the source said.
Mexican President Lopez said on twitter on the 22nd that he and Biden had held discussions on the epidemic situation, immigration and other issues over the phone, and the atmosphere of dialogue was "friendly and mutual respect.";.