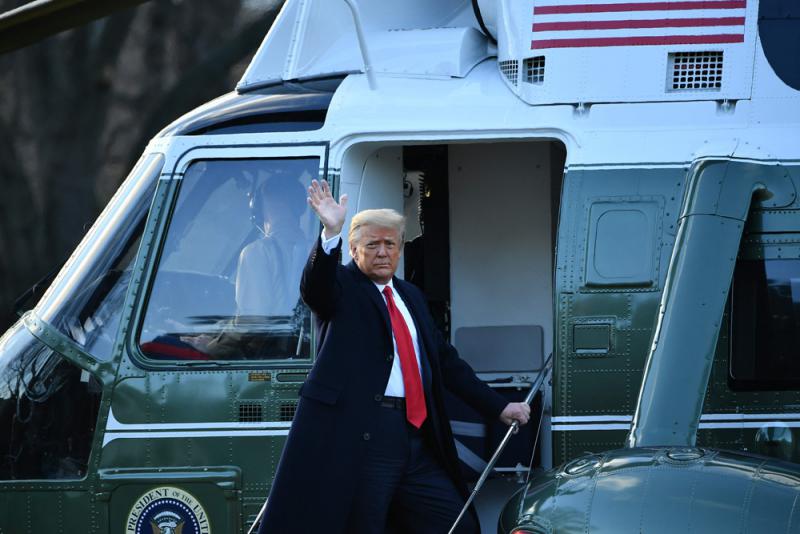 Photo: trump leaves the White House on the morning of the 20th. /Reuters
[Ta Kung Pao] according to the New York Times and the associated press, the 45th US President trump left the White House on the morning of 20 local time and left a note for Biden at the white house before leaving. Trump delivered a farewell speech at the Andrews base in Maryland, boasting about his achievements, continuing to use the stigmatized term of "China virus" and declaring that he will return in some form;.
However, Trump's final farewell scene was very cold, and many former allies, including his deputy burns, did not give him the last leg;.
Trump did not mention Biden's name in his final speech, but simply wished the next government "good luck.";. After the simple ceremony, Trump and his wife Melania boarded the special plane "Air Force One" for the last time and went to the sea lake manor in Florida. Although trump once refused to acknowledge the election results, did not cooperate with the handover, and even incited supporters to attack Congress violently, on his departure day, he followed an American tradition that lasted for 32 years: leaving a note for the next president in the Oval Office of the White House, the content of which is unknown to the outside world.
It is reported that trump is discussing the formation of a new political party, the "Patriot party", to try to exert influence after he leaves office. After the 6 th Congress riot, trump has been tense with Republican leaders including Senate Republican leader McConnell. On the 19th, McConnell criticized trump fiercely for the first time, stressing that he should be blamed for "inciting riots".
In the early hours of the 20th local time, trump seized the last time in the White House to exercise the presidential amnesty. He pardoned 73 people, including former White House chief strategic adviser Bannon, who was suspected of fraud, and announced 70 commutation decisions.
Bannon launched crowdfunding in the name of supporting trump to build the U.S. – Mexico border wall, and eventually raised more than $25 million. However, he was charged with embezzling more than $1 million last year, but he refused to plead guilty. According to trump's senior advisers, Trump and Bannon have been in frequent contact in recent weeks.