The official microblog of Shangcheng branch of Hangzhou Public Security Bureau, Ping'an Shangcheng, just released a notice saying that at about 10:55 am on January 22, 2021, a report was received that a suspected explosive explosion occurred on the 5th floor of No. 6 building of Zhejiang first hospital, causing injuries to three hospital staff and one patient. After receiving the police, the police rushed to the scene quickly, the suspect has been controlled by the police, and the case is under further investigation.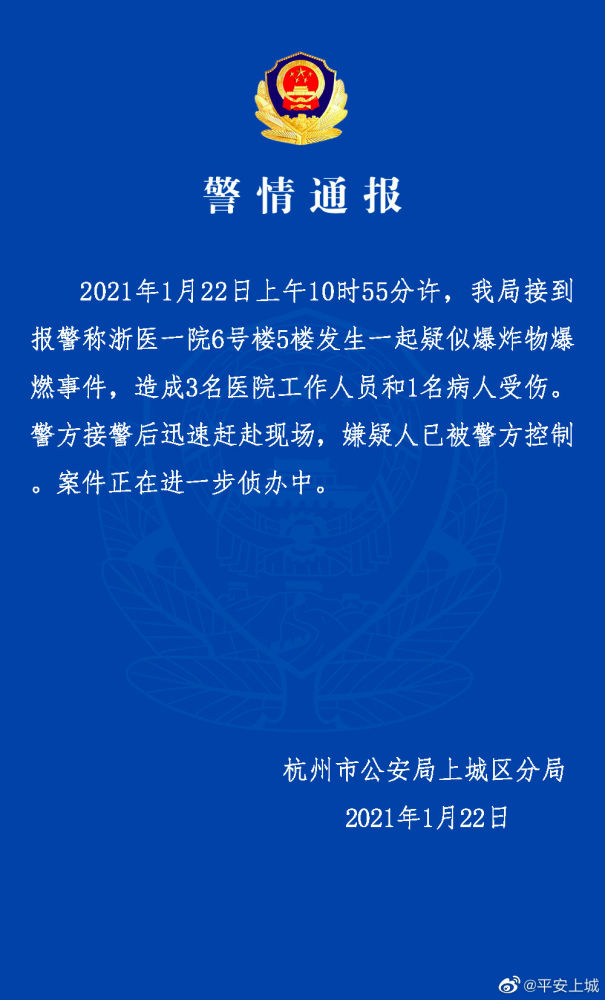 Photo source: Official microblog of Shangcheng branch of Hangzhou Public Security Bureau
According to online news, the explosion occurred in the hemodialysis room of building 6. The bomb was a self-made improvised bomb. The injured were being rescued. Bomb disposal experts were on the scene. The suspect was suspected to be a hemodialysis patient.
According to the people present, I did hear the hospital broadcast "333" at that time, and the hospital broadcast "333" refers to mass trauma.
Dialysis center, most of them are uremic patients, because they can not produce their own urine to excrete body metabolites, so they need to do hemodialysis within the specified time. Xiao Bian thinks that psychological counseling must be strengthened for psychological problems caused by long illness.
It seems that this "Bomb dropping incident" is not aimed at medical personnel, but an indiscriminate attack. Xiaobian reminds the medical staff and the public to remember to protect their own safety when they are in the hospital!
Content reference: Ding Xiangyuan, official microblog of Shangcheng branch of Hangzhou Public Security Bureau