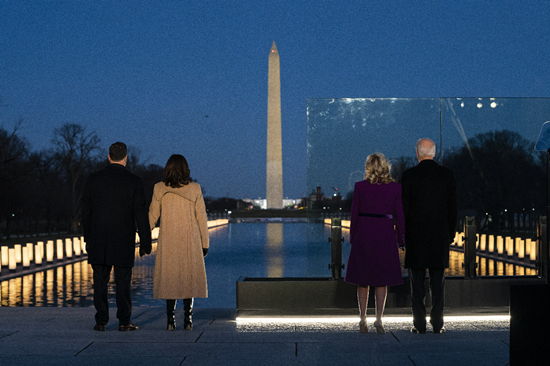 Biden and Harris attended the commemoration of the victims of the epidemic. (Associated Press)
Biden, the US President elect, will be sworn in late this (20th) night in Hong Kong time. Before leaving for Washington, he said that although the country's current situation is gloomy, he believes that the future is still bright.
Biden's first event after his arrival in Washington was to go to the Lincoln Memorial with Vice President elect Harris to commemorate the death of the new coronavirus. The Lincoln Memorial lights up 400 lights to commemorate 400000 Americans who died of the new coronavirus.
Biden made a speech thanking the medical staff for their contribution to the fight against the epidemic. He also said that under the epidemic situation, commemorating the dead is a necessary process for healing.
Biden earlier left his home state of Delaware to address the headquarters of the State National Guard Army, named after his late son, Bo Biden. Biden said: "I know it's a dark moment, but the light is always there. This is the special place in this state. This is the inspiration she gave me, the biggest inspiration she gave me. The light is always there. "