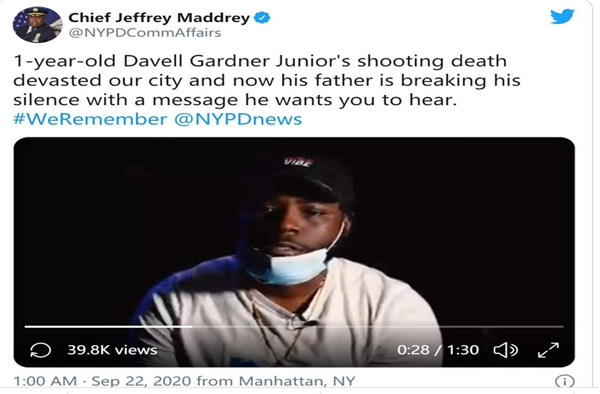 One year old deval Gardner Jr. was shot in the abdomen and died in a pram near an amusement park in New York. His father's sad online call for an end to gun violence. Photo source: Official twitter screenshot of New York City Police Department
On July 13, 2020, no new deaths were reported in New York in the past 24 hours. This was the first victory since the outbreak began, but New Yorkers did not want to celebrate. Just the night before, 1-year-old boy deval Gardner was shot dead in a park near Brooklyn. This novel coronavirus pneumonia has made Americans aware that gun violence is no less dangerous than the new crown pneumonia epidemic.
During the epidemic, covid-19, such as little deval, died of gun violence rather than the new crown. In 2020, 1361 children and teenagers aged 0-17 were killed and 3752 injured by gunfire, according to a survey released by the online website GVA, which collects data on gun violence in the United States.
In 2020, the problem of violent crime in the United States will obviously worsen. According to the gun archive network, 19308 people died in shootings and gun related violent crimes in the United States in 2020, a 20-year high. The number of large-scale shooting cases (cases with four or more casualties) also reached 612, the highest in the past five years.
Covid-19 people.com.cn Yuan Zheng, deputy director and senior researcher of the Institute of American studies, said that "the new crown disease has exposed the deep-rooted problems of racial discrimination, public health crisis and polarization between the rich and the poor in China. These social and economic problems make gun violence in the United States more serious. In the foreseeable future, we don't see any signs that gun violence will improve. "
Gun violence intensified during the outbreak