Original title: Trump's first voice after stepping down
Asked what to do next, Trump: we will do something, but not now
"We will do something, but not now." According to Fox News, former US President trump spoke for the first time after leaving the White House on January 22 local time. When asked about future plans, trump gave the above answer.
Former US President trump
According to the report, during Trump's dinner at Trump International Golf Club in West Palm Beach, Florida, a reporter from the Washington observer asked trump what he plans to do next.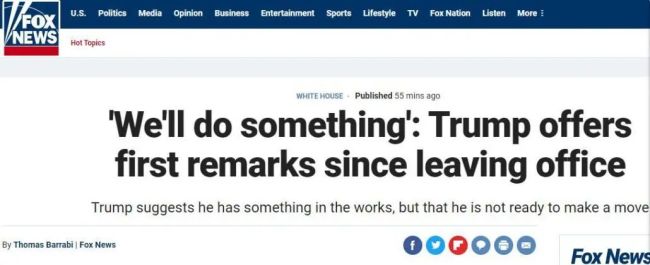 Fox News: trump said for the first time after leaving office, "what are we going to do?"
Trump gave a short answer: "we will do something, but not now." Then, Trump's aides asked the reporter to leave.
According to previous reports, Trump and Melania's "Air Force One" arrived in Florida on January 20 local time. On January 21 local time, the first day of Trump's resignation as president, American media photographed him playing golf in his club. So far, according to Fox News, trump has given little sign of what he plans to do at the end of his term.
In addition, there seems to be progress on Trump's impeachment. On January 6, a congressional riot occurred in the United States, resulting in five deaths and dozens of injuries. The house of Representatives passed the impeachment clause on January 13, accusing trump of "inciting rebellion", "interfering with the peaceful transition of power" and "seriously endangering the security of the United States and its government agencies". On January 21, Senate Republican leader McConnell proposed to give Trump's legal team two weeks to prepare for the impeachment trial, and to postpone the trial until mid February. According to the latest news from Agence France Presse, Senate Majority Leader Schumer said the trial of Trump's impeachment case will start on February 8.